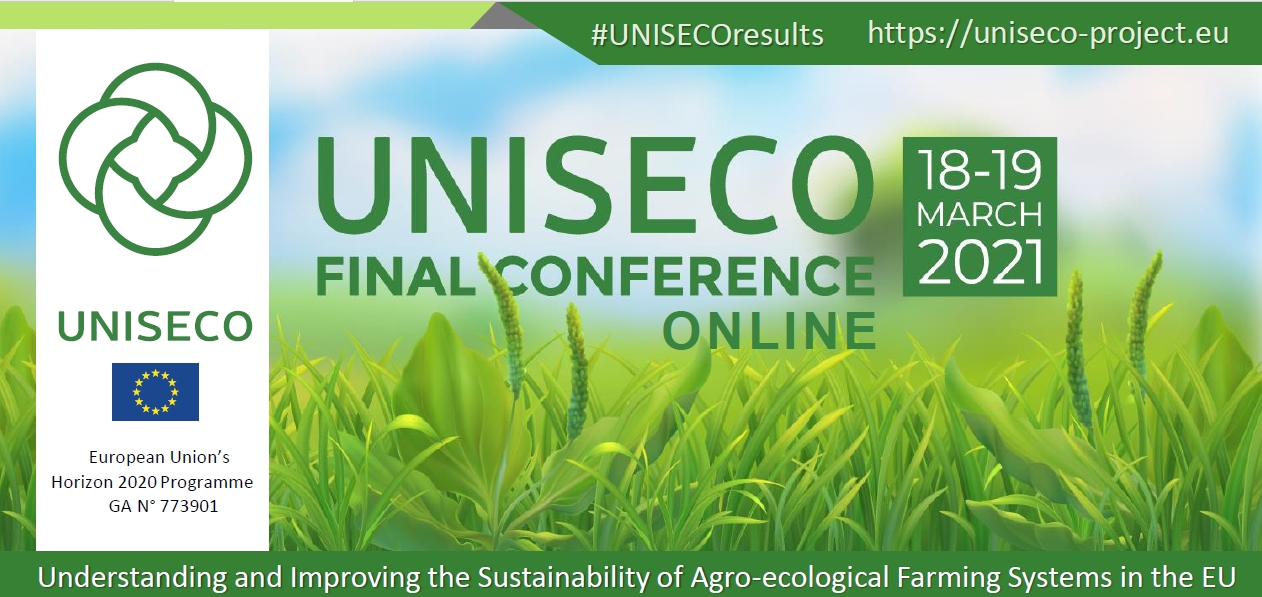 About the event
We showcased the results of the UNISECO project, including strategies for agro-ecological transitions in a diverse set of case studies across Europe, territorial implications of agro-ecological transitions at EU-level, and the Agro-Ecological Knowledge Hub and key recommendations for policy and practice.
The event provided opportunities to:
Debate approaches, findings and lessons for policy and for practice, and the spatially explicit interactive online tool to explore sustainability impacts of agro-ecological farming systems;

Contribute to an evolving debate of the role of agroecology in sustainable farming and food systems in Europe, and of effective policy support;

Network with key stakeholders, researchers and other interested parties.
Project results are intended to contribute to the implementation of the EU Farm to Fork Strategy, Biodiversity Strategy for 2030, the preparations of the European R&I partnership on agroecology living labs and research infrastructures, and the national CAP Strategic Plans.
The target audience of this conference was farming organisations and stakeholders across the value chain, the European Commission and EU and national public authorities, international organisations, NGOs and civil society organisations, knowledge and innovation networks and brokers, and researchers.
Download the conference report (soon to come).
Programme of the conference
Download the conference agenda here in pdf
Visit the conference platform Hopin page
18th March 2021
Webinar: Governance and sustainability of agro-ecological transitions – Synthesis of main findings and recommendations
Introduction to the Socio-ecological system interaction tool (SESSIT) and the Agro-ecological Knowledge Hub
Session 1 and Session 8: Lessons and insights from conventional and organic dairy systems
Session 2 and Session 9: Initiating transitions in intensive arable and livestock systems
Session 3 and Session 10: Lessons and insights from Mediterranean perennial systems
Session 4 and Session 11: Lessons and insights from mixed farming systems

Session 5 and Session 12: Territorial impacts of agro-ecological farming practices and food systems transformation in the European Union in 2050

Session 6 and Session 13: SESSIT: Socio-Ecological System Interaction Tool - interactive session

Session 7 and Session 14: Role and experiences of Multi-Actor Platform approach in agro-ecological transitions
19th March 2021
Presentations introducing the European R&I partnership on agroecology and its preparation and providing insights into lessons learnt and emerging key issues for supporting agro-ecological transitions
Discussion of emerging key issues and possible contributions to the preparation of the European R&I partnership on agroecology, national level CAP strategic plans and future research topic