Key Dilemma and key reseach question
Developing a more diversified cropping system in a highly specialised and market-oriented winegrowing area, in order to increase the resilience of the local farming system.
How to develop a more diversified cropping system in a highly specialised and market-oriented winegrowing area through the adoption of agro-ecological practices, in order to improve the biodiversity and landscape management of the area while maintaining the profitability of farming through local value chains.
Sub-research questions
The dilemma/research question for the case study as whole was further specified according to the two different approaches/tasks of the case study, corresponding to different levels of analysis:
Farm level: focused on the adoption and diffusion of agro-ecological practices and more generally on farms models focused on agro-ecological principles
Territorial level: focused on the actions that a broad range of territorial actors (local institutions, producer associations, value chain actors, other organisations, etc.) have to undertake together with farmers
Farm level research question: how to favour the adoption of farming practices inspired by the principles of agro-ecology, with particular attention to the role of crop diversification.
In greater details, this research question will address:
Farming practices that go beyond the input substitution approach and that can provide effective ecosystem services
Farm models based on diversified cropping systems and on the valorisation of local products through local value chains
Territorial level research question: how to strengthen and enlarge the Biodistrict activities, in order to improve the profitability, employment and environmental quality of the territory through the introduction of agro-ecological principles in farms management.
In greater details, this research question will address:
The role (current and potential) of Chianti Biodistrict in the agro-ecological transition through two actions: (i) the diffusion of the most advanced agronomic practices (and inspired by agro-ecology) for farmers who are already members of the Biodistrict and (ii) increasing the interest (and adhesion) of conventional farms to Chianti Biodistrict
The valorisation on the local market (and not only) of products other than wine, in order to reduce the dependence on exports of a single product and to increase the variety of local products, with the overall objective of reducing the risk of land abandonment and to strength the agritourism vocation of the territory.
Short description of key characteristics
The area under study is Chianti Classico, a highly specialised and market-oriented winegrowing area in Tuscany. Chianti Classico comprises an area of approximately 71,800 ha, located in the Provinces of Florence (30,400 ha) and Siena (41,400 ha), where there are approximately 10,000 hectares of vineyard on 28,000 ha of utilised agricultural area.
The case study focuses on the Chianti Biodistrict, comprising 8 municipalities of Chianti Classico where a high percentage of wine farms adopting organic methods. A biodistrict can be defined as a geographical area where farmers, citizens, tourist operators, associations and public authorities enter into an agreement for the sustainable management of local resources, based on organic production and consumption. Also as result of this initiative, key agro-ecological practices have been introduced and widespread in wine growing, such as the use of organic fertilisers and pesticides, inter-row grassing, selection of local varieties, green manure, maintenance of seminatural features. At the same time, one of the outstanding challenges of the area is developing a more diversified cropping system, in order to further improve biodiversity and landscape, also through revitalisation of under-utilised agricultural areas (e.g. olive groves, horticulture and durum wheat). The development of the related local value chains could also increase the resilience of local farming system, by reducing the dependence from the export of a single product (wine).
Key actors involved
Chianti Biodistrict: Organisation grouping together organic farmers and other local associations
Chianti Classico Consortium: Organisation grouping together of the wine producers of DOCG Chianti Classico wine
SPEVIS: Local research and advisory centre for sustainable viticulture
CIA – Confederazione Italiana
Agricoltori Firenze e Prato: Local Farmers Association
CONFAGRICOLTURA Siena: Local Farmers Association
Unione viticoltori Panzano: Municipal wine producers' association
Unione viticoltori Gaiole in Chianti Municipal wine producers' association
Unione viticoltori Castellina in Chianti: Municipal wine producers' association
Studio Agostoli: Private Consultant (agronomists)
WWF Radda in Chianti – SIENA: Environmental Organisation
Legambiente Toscana: Environmental Organisation
Comune San Casciano Val di Pesa: Local municipality
Regione Toscana: RDP Managing Authority
Expected Results
Several EU relevant sustainability issues are addressed in the case study, including rural vitality, soil degradation, water pollution, biodiversity, landscape.
The expected results of the case study are:
Territorial and farming strategies which can reconcile agro-ecological principles with a strongly market-oriented and specialised farming system
Role of biodistricts in favouring the agro-ecological transitions at territorial level
Drivers and barriers of adoption of agro-ecological practices, with a special attention to crop diversification, contrast to land abandonment and sustainable forest management
Drivers and barriers of development of local value chains as result as an increased crop diversification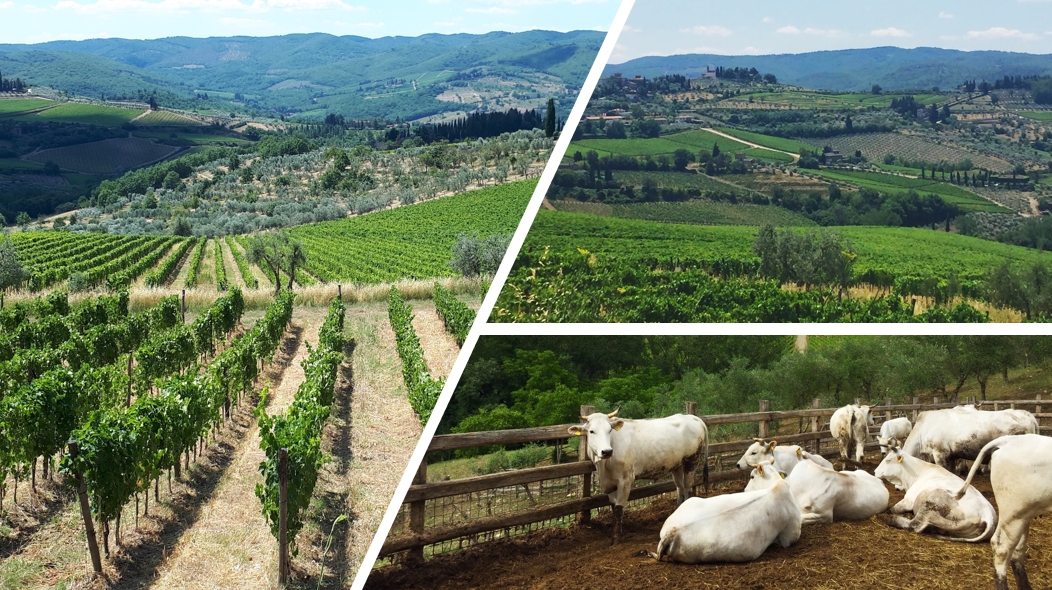 Case study Chianti Biodistrict - Italy