Although 10% of the total milk production in Latvia is certified organic, only about 44% of the certified organic milk is processed as organic dairy products, whereas about 41% of certified organic milk is processed into conventional dairy products.
Multi-Actor Platform (MAP) stakeholders, including farmers, farmer organizations, environmental NGOs, researchers and government representatives from the agricultural sector defined a framework of policy instruments supporting organic dairy and agro-ecological farming practices and systems. Subsequently, on the basis of interviews with 11 MAP stakeholders, an ex-ante multi-criteria assessment (MCA) was undertaken of the policy instruments to define priorities for implementation.
Policy instruments were assessed against two criteria - performance (effectiveness, undesired effects, targeting, efficiency, feasibility) and relevance. The ranking of policy instruments in relation to performance and relevance is shown in the following graphs.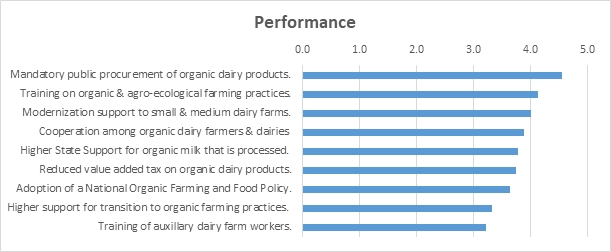 In relation to both assessment criteria, the policy instruments Mandatory public procurement of organic dairy products, Modernization support to small & medium dairy farms and Training on organic, agro-ecological farming practices ranked highest. Stakeholders ranked the policy instruments Higher support for transition to organic farming practices and Training of auxillary dairy farm workers lowest on both criteria.
According to stakeholders, the proposed policy instruments present a comprehensive approach to addressing the identified dilemma in the organic dairy farming system. There is a good complementarity between the proposed instruments as they address both supply and demand aspects of the transition to an organic and agro-ecological dairy farming system. Stakeholders suggest that the defined policy instruments could serve as a framework for the development of a National Organic Farming and Food Policy.
Source: BEF-LV